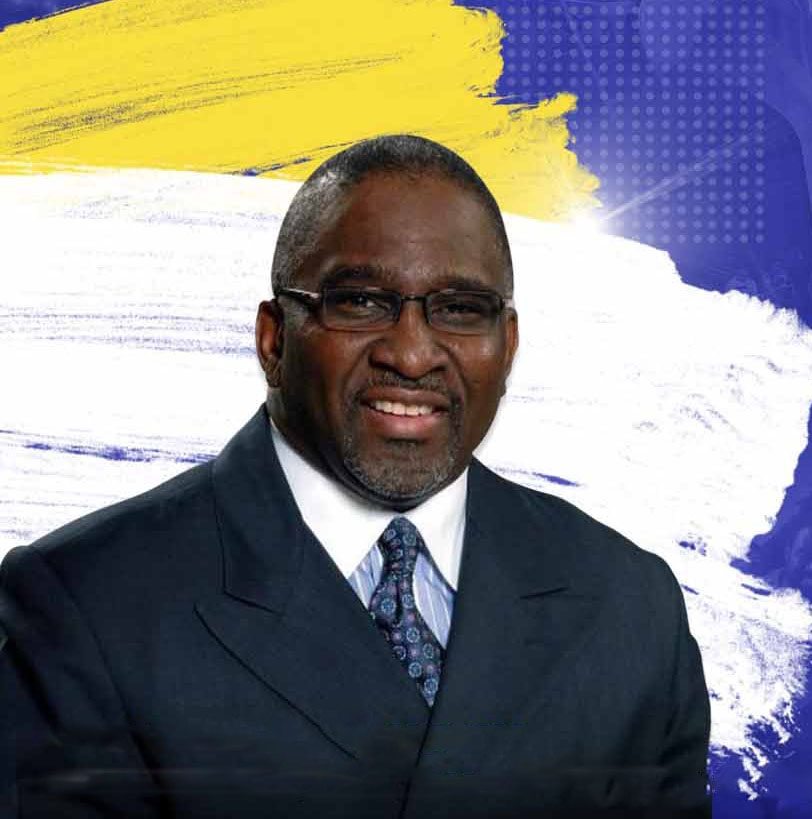 Since November of 1990, Anthony L. Trufant has served as the Senior Pastor of Emmanuel Baptist Church of Brooklyn, NY. (www.ebcconnects.com) He is a graduate of Morehouse College (B.A.), Colgate Rochester Divinity School (M.Div.), and Seton Hall University (M.A). He has completed coursework towards a doctorate in Pastoral Counseling at Hebrew Union College of New York City. Currently, he is a doctoral candidate at Bakke Graduate School, where he is pursuing a degree in Transformational Leadership. He holds a certificate in Conflict Resolution Mediation, and he is an executive coach with the John Maxwell Team. Furthermore, he is the sole owner and operator of Tru4U, LLC, an organizational consulting and executive coaching company. Eclipsing all of his accomplishments, Pastor Trufant's pride and joy is his family. Pastor Trufant is the husband of Muriel Goode-Trufant, and the father of two grown daughters, Sharise Emmanuelle and Toni Niara.
The Brooklyn, New York-based preaching, teaching and outreach ministry of the Rev. Anthony L. Trufant stretches from New York City to New Orleans, from Haiti's hovels to the up-from-apartheid townships of South Africa and beyond.
His Bible-based worldview and Christ-centered activism have been shaped, in part, by his Chicago boyhood and by spending the balance of his youth in San Francisco. At that city's noted, community-changing Third Baptist Church, Rev. Trufant interned under the Rev. Dr. Amos Brown.
The apprenticeship further fueled Rev. Trufant's belief that the church of Jesus Christ must be actively engaged in the liberation struggle and survival of the entire human family, especially people of African descent. That group is predominately, yet not exclusively, comprised of blacks from the USA, the Caribbean, Latin America, Europe and Africa and is the bulk of his 4,000-member Emmanuel Baptist Church in Brooklyn's Clinton Hill neighborhood. Appointed as Emmanuel's pastor in November 1990, he has overseen its exponential growth in membership and programming and raised its profile as one of the most innovative, effective "glocal" churches in the Metro New York area.
A sought-after workshop facilitator, church consultant, and leadership development specialist, Rev. Trufant is the recipient of numerous civic and religious awards. He also was inducted into the Morehouse College of Ministers; profiled by author David Ritz's critically acclaimed' "The Messengers;" and had his "Worship That Pleases God" published in Oxford Sermons, Volume 3. He has been active in the Dallas, Texas-based, nationally focused Leadership Network. Additionally, he contributed a chapter on "Creativity In Preaching", in "Living Under an Imposed Sentence", a book published in honor of one of his mentors, Dr. Charles Booth, Senior Pastor of Mt. Olivet Baptist Church of Columbus, OH.
With a Bachelor of Arts from Morehouse and a Master of Divinity from Colgate Rochester, Rev. Trufant was licensed to preach in July 1981 and ordained in May of 1988 by Third Baptist in San Francisco. In March of 2016, he competed a Masters of Arts in Strategic Leadership and Communication and a certificate in Strategic Leadership, Communication, Diversity, and Globalization, both at Seton Hall University. Currently a doctoral student in Transformational Leadership at Bakke Graduate School in Dallas, TX, he is a certified Conflict Resolution Mediator. Rev. Trufant has received a diploma in pastoral counseling from Post Graduate Center for Mental Health and has completed coursework towards a doctorate (ABD) at Hebrew Union College.
A former adjunct professor at New York Theological and Auburn Theological Seminaries, he has lectured and/or preached at Morehouse College, University of Pennsylvania, Suffolk University, Palmer Theological, Long Island University, Colgate Rochester Divinity School, and Princeton Theological Seminary, and Samuel Dewitt Proctor Conference.
In addition to Third Baptist Church, Rev. Trufant has apprenticed under Rev. Dr. Charles E. Booth of Mt. Olivet Baptist Church of Columbus, Ohio and Rev. Harvey Kelley of New Hope Baptist Church of Niagara Falls, NY. For two and half years prior to his arrival at Emmanuel, Rev. Trufant was pastor of the Church of Christian Compassion in West Philadelphia, Pennsylvania.
Available for speaking engagements for more information: