The Sacred Arts Ministry mission is to ensure that all guests of EBC are welcomed and inspired to join us in the praise and worship of our Savior, Jesus Christ. Through the intricate ministries of song, dance, acting, technical arts, greeters, gracious guides, and ushers, as well as, our band, we are given the opportunity to present our finest gifts and talents to the Lord. It is our hope that you will bring forth your support, gifts and talents and aid us in continuing to offer Excellence in Ministry for Emmanuel Baptist Church and to God.
A.C.T.S. (Drama)
SERVANT LEADER: ALYSIA POWELL
Finally, You Can Act Up in the Church ACTS( A Christian Theatrical Society)of EBC believes we're all stars in our own drama for salvation. Therefore,we are a ministry that invests in the potential and authenticity of individuals to minister to God and his people through drama.
So, if you been looking to put your acting and dramatic writing skills to good use, you've come to the right place. During our workshops, we'll discuss how to take our talents to ''Holy''wood at EBC. Participants will also be given the opportunity to do some ''acting up'' of their own during our workshop. So if you are ready to learn,listen and have a good time this is the workshop for you.
Gracious Guides (Contemporary Ushers)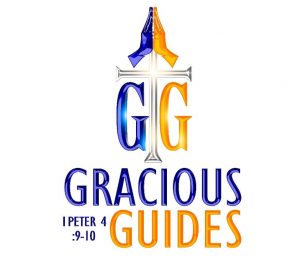 SERVANT LEADERS: RODNEY HUGHES &
DANIELLE SULLIVAN
Gracious Guides serve as a representative of God. Our role is to be welcoming, we smile, welcome and seat visitors and members, collect offering and assist as necessary during service.
Gracious Guides mission is to serve the EBC community and visitors in a way that promotes a welcoming environment to the worship experience.
DEVOTIONAL/MEETING DATES & TIMES
3rd Sunday after 11am Service
Open Arms (Greeters)
SERVANT LEADER: RENEE MEEKINS

The mission of Open Arms, the Greeters Ministry, is to enrich worship service by preparing the hearts, minds, and attitudes of each person by greeting them with a smile and a kind word as they are welcomed with open arms into Emmanuel Baptist Church.
Enjoy the opportunity to become a greeter in this season. Let your light shine at the doors of the church. Your service in this ministry leaves the first and last impression on everyone who comes to worship at EBC.
Servants of Servants (Hospitality Ministry)
SERVANT LEADER: JACQUELINE BROWN-SINCLAIR
Servants of Servants is an unique ministry that offers its grace and etiquette skills towards all of the SAM fellowship events. They host monthly birthday mini-celebrations for SAM, while also meeting assorted emergency needs of SAM and the EBC family and church guests. Is open to all SAM members.
Technical Arts (Audio, Video & Lighting)
SERVANT LEADER: Ayanna Southwood-Smith Cunningham
Technical Arts is the audio, video, and lighting ministry of Emmanuel Baptist Church. We serve as a 'backstage' crew for almost all things Emmanuel. If you are interested in learning what it takes to broadcast to thousands of people each week, then Technical Arts is the place for you.
Get a feel for what it's like to be on Emmanuel's production team. Whether you are interested in computers. microphones, or cameras there is something for you.
Temples of Praise (Dance)
SERVANT LEADER: DECI TYSON-JOHNSON AND SHEILA WILLIS
It's going down EBC! Temples of Praise(TOP), Dance ministry invites you to join where we will give instruction and incorporate the fundamentals of modern,contemporary and African dance while matching each dance form to both gospel and contemporary music. We will explore similarities and differences between the styles and learn a combination that is a meaningful fusion of Praise Dance. Even if you have two left feet we'll show you how. Come join us as we DANCE it out for Jesus!
The Children's Choir
SERVANT LEADER: MONIQUE LESLEY
The Children's Choir is an ensemble for children that teaches them how to use their voices through song and praise. They also learn how to lead the congregation into praise and worship.
The Sign Language Ministry
SERVANT LEADER: RENE EDGHILL-BROWN
The Sign Language Ministry will put forth their best effort to interpret God's Word for the Deaf/Hard of Hearing populations. We will seek to usher them into God's presence through Praise and Worship participation in song, dance, drama and total expression.
We seek to nurture and care for ASL individual/family needs for job interviews, housing, ADA rights, Social Security benefits, hospitals, deaths, etc… as needed.
DEVOTIONAL/MEETING DATES & TIMES
The Sign Language Ministry will plan to meet every 3rd Sunday following the Worship Service.
Total Praise
DIRECTOR OF MUSIC: TERREL STONE
Total Praise is the main choir that leads the EBC family into worship through song. All members of the Music Department are required to have a scheduled meeting/audition with our Director of Music or his assigned party.
DEVOTIONAL/MEETING DATES & TIMES
Rehearsal are on Tuesdays at 7 pm
Triple "G" Band
PETER ROGERS, CONDUCTOR
Our unique and inspirational band is always looking for those instrumentalist who what to share in their talents!
Ushers (Traditional)
SERVANT LEADER: ANNIE WALTON AND GWENDOLYN VAN BUREN
EBC Ushers serve as doorkeepers in the house of the Lord, united in one love, one body, striving to do God's work. To meet, greet and seat all those who enter Emmanuel Baptist Church and extend to each visitor and member a friendly greeting so they will be in the right frame of mind to receive the message spoken from the pulpit.
DEVOTIONAL/MEETING DATES & TIMES
The EBC ushers meet on the 1st Sunday of each month after the 9am Service and attend Sacred Arts Ministry Devotional on the 1st Tuesday of each month.
Worship Team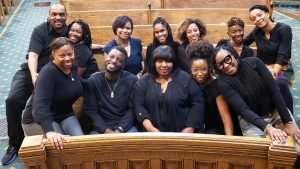 WORSHIP LEADER: KIMBERLY LOPEZ, ANISSA CROOMS, CHARIESSE LARKE

The Worship Team is dedicated to developing a unified sound and a culture of worship unique to EBC. In addition, the Worship Team will consistently create an atmosphere for God to move and prepare the minds and hearts of the church to receive the word of God.
The Worship Team encourages praise and worship during services and evokes an atmosphere that invites the presence of God.
DEVOTIONAL/MEETING DATES & TIMES
Devotional will held the last Tuesday of the month
Rehearsals are every Tuesday from 8:30 pm-9:45pm